Learn to Code HTML and CSS: Develop and Style Websites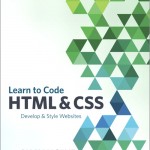 En väldigt genomgående bok om grunderna i HTML och CSS. Denna rekommenderar jag för nybörjare och för de som behöver  fräscha upp lite kunskaper. Den är väldigt välskriven och jag som sysslat med HTML och CSS till och från lärde mig en hel del matnyttiga saker som man ibland missar när man bara jobbar på. Boken innehåller förklaringar med exempel som man kan följa med i.
Jag köpte Ebook:en  men materialet finns att tillgå gratis via hemsidan nedan.
Länkar: